Packing Lists
 Feel free to print out these packing lists and check them off.
Accessories: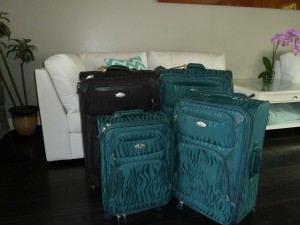 1 quart Ziplock bag for airport security
Adapter
Alarm Clock (your watch or phone may work)
Beach Bag
Binoculars
Books or Readers
Calculator for currency conversion
Cell Phone
Charged Cameras
Chargers for Cameras, Phones, etc.
Converter or Transformer
Dive Equipment (Dive Watch, Dive Camera, Mask, Fins, Snorkel, Certificate, etc.)
Ear Plugs – nice for airlines or noisy hotels.
Extra Memory Cards
Foreign Language Books or Apps
Garbage sacks for dirty clothes
Glasses or Contacts and Contact Solution
Hair Accessories
Hats
Jewelry
Laundry Detergent
Maps or Apps
Paper and Pen
Sunglasses
Underwater Camera
Ziplock Bags
 Documents:
Certificates – Dive Certificate, etc.
Confirmation numbers, tickets, paper or apps for hotels, rental cars, excursions, etc.
Driver's License if you plan to drive or for ID purposes
Immunization forms if needed
Itinerary
Money – Cash, Credit Cards, Debit Cards (or ATM card)
Passports
Phone Card if needed (or laptop or iPhone to facetime back home)
Photocopies of all your documents kept in a folder with you and another copy left at home
Visas if valid for the country you are entering
Wallet or Neck Wallet (sometime a Fake Wallet as well)
Clothes:
 Belts
Dresses
Jackets or Cardigans
Pajamas
Pants
Shirts
Shoes – Sandals, Running, Water, High Heels, Dress shoes, etc.
Shorts
Skirts
Socks and or nylons
Swimsuit cover ups
Swimsuits
Underwear, bra, etc.
Medicines You May Need:
Aloe Vera
Antacid
Antihistamine
Bandages, and anti-biotic ointment
Decongestant
Hand Sanitizer
Imodium
Laxative / Gas Pills
Motion Sickness Tablets
Other prescriptions
Pain Reliever
Pepto-Bismol
Sunscreen
 Toiletries:
Contact Lens Solution
Cosmetics
Deodorant
Floss
Gel
Hairdryer
Hairspray
Lip Balm
Lotion
Nail Clippers , File
Nail polish
Razor and Shaving Cream
Shampoo / Conditioner
Soap
Tampons/ Pads
Toothbrush / Toothpaste
Tweezers
What to bring in your Carry-on:
A freezer bag that holds all the liquids for your carry-on
All your documents and vouchers
All your medications
Books
Eat Phones
Ear Plugs
Empty water bottle to fill up after security
Eye Mask
Hairbrush and an elastic
Ipad or DVD player
Jacket
Make-up to freshen up
Neck Pillow
Phone
Snacks in case you get hungry
Socks
Toothbrush and Toothpaste
Wallet
What to take on a cruise ship:
Take everything above, plus don't forget to bring formal wear.  Depending on the length of the cruise you may have 2 formal nights not just 1. You don't have to dress up if you don't want to, you just won't be able to eat in the nicer dining rooms. That includes for men: dress shoes, dress socks, slacks, button down shirt, tie, belt, blazer, and jacket or sports coat.  For women:  formal dress, jewelry, dress shoes, hair accessories.
Don't forget motion sickness tablets if you tend to get sea sick when you are on a boat or scuba diving. Some cruises like Royal Caribbean give out motion sickness stickers that you put behind your ear.  I personally don't get sea sickness, but people who used them say it works.
No need to bring a towel because all cruise ships provide one for you to use when you go to the beach.
Some ports will make you take both your passport and another form of ID to enter back onto the ship.

Click here for Packing Tips and How to Pack.
Customized Packing Lists:
Create your own free travel packing list.  Customize it to the number of travelers, your destination, accommodations, weather, and tour activities.  Print or email your packing checklist to yourself!
For your own customized packing list:  Click Here
Thanks for visiting Packing Lists.