Scam Alert:  Airline name being used for fake tickets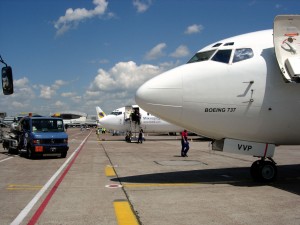 If you receive a letter claiming you've won two round-trip tickets anywhere in the continental US  and they have been trying to contact you, please do not call them.  This is a phishing scam and they are attempting to get your personal information.  The letter may state they are from American (not an actual airline), American Airlines, US Airlines (not an actual airline), or United.
I just receive one of their letters yesterday and decided to look into it because it seemed a little too good to be true.
The Scam in Action:

Consumers receive the letter either by fax or through the mail. The letters have no return address and may contain a legit logo. Most of the letters appear to come from Phoenix, Arizona. The message typically reads as follows:
NOTE: You must respond no later than XXXX.

Dear XXXX,

I am pleased to inform you that you have qualified for an award of 2 roundtrip airline tickets. Congratulations. These tickets are valid for travel anywhere in the Continental U.S. from any major international airport. The retail value of this award is up to $1,298.00. Certain restrictions apply. We have attempted contacting you several times without success. This is our last attempt. If we do not hear from you soon, we may need to issue the ticket vouchers to the alternate.

Please call me today at 1-866-546-1767.

Regards,
XXXX
Vice President
What to do about it:
If you receive a letter such as this and are questioning it's legitimacy, reach out to your local BBB or directly to the Airline it is stating to be. Don't call the number on the letter.  They already have your name and address and if you call them they will also have your phone number.  Whatever you do, don't give out personal information.