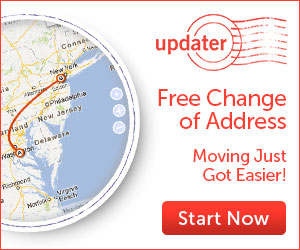 Updater helps take the hassle and stress out of moving. From safely filing your change of address with the U.S. Postal Service to getting the best deals on cable and utilities at your new place, Updater lets you complete tasks that used to take hours with just a few clicks. And best of all, it's totally free.
Share your move in style: All Updater users receive a "Moving Page" build on Google Maps. Email it and post it on Facebook and Twitter.
Step 1:File your USPS change of address
Updater is the only site that lets you file your official change of address form with the USPS for free.
Step 2: Update your personal accounts
Send secure address change notifications to any business, organization, or publication with the click of a button. This includes schools.
Step 3: Get connected at your new place
Conveniently schedule utilities, such as cable, internet and electric and lock in the best rates.
Updater's Free Change of Address Service has been featured in The New York Times and other well known newspapers.