East Asia:  China, Hong Kong, Japan, Macau, Mongolia, North Korea, South Korea, Taiwan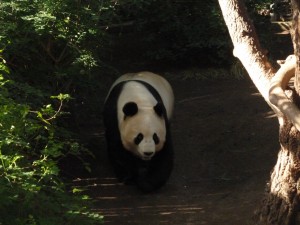 Best time to visit China: China is a big place.  The further North you go, the colder it will be.
Autumn is the best time to travel to China (September – October).  Avoid October 1-7 because it is a major holiday – National Day.
Spring (Late April – May) can have good temperature, but is less predictable than autumn. May 1-7 is Labor Day and considered high season.
Summer (June- end of August) is hot and humid and it is also the rainy season, however you can find good deals. The four furnaces of China are Wuhan, Tianjin, Chongqing and Nanchang, so avoid these in the summer. Sometimes summer vacation (July-August) can get crowded.
Winter can offer great rates as well and the Harbin Winter Ice Lantern Festival is charming. January 1-7 is Lunar calendar and is high season. Sometimes winter vacation (January-March) can get crowded with college students being home.
If you go during low seasons you will save money in airfare, hotels, entrance fees, and goods sold.  It can also save you time and give you a more relaxed vacation.  Instead of taking a couple hours to take a photo during peak time, you will have it all to yourself. Layer your clothing to keep you warmer with less bulk in the winter, and to stay at the right temperature in the Spring and Autumn when the weather is less predictable.
During the peak season, all of the travel expense will be more than usual. It's quite necessary to book your tickets in advance.
China is a great country with numerous nationalities and they each have their own festivals.
Check out Weatherunderground or similar websites for specific information.
 Northern Asia:  Russia Federation.  Russia lies mostly in Asia; however most of the population is in Europe. See the Europe/Russia pages for more information.
Central Asia: Afghanistan, Bangladesh, Bhutan, India, Iran, Kazakhstan, Kyrgyzstan, Maldives, Nepal, Pakistan, Sri Lanka, Tajikistan, Turkmenistan, Uzbekistan,
Best time to visit Central Asia is in the spring (May- June) or autumn (September to November). There is an international airport in both Toshkent and Ashkhabad.
South East Asia:  Brunei Darussalam, Cambodia, Indonesia, Lao PDR, Malaysia, Myanmar (Burma), Philippines, Singapore, Thailand, Timor-Leste (East Timor), Vietnam
Best time to visit: November through February when temperatures area little drier and cooler for most countries in South East Asia.  This is the high tourist season, so expect higher flight, hotel and restaurant rates.  Being close to the equator it is usually hot and humid. Average temperatures for the region are around 80 degrees Fahrenheit year-round. The hottest time is usually March – June when temperatures can get up to 97 degrees.  This can be a great time to visit if you are on a budget.  Wet monsoon rains fall from June to October in most countries in South East Asia.
Malaysia and Indonesia are the exception and their dry season is from April to October.
The cheapest countries to travel to in South East Asia are Indonesia, Myanmar, Laos and Cambodia. If you go during the hot season you will save even more money.  The most expensive country is Singapore.
The New Year is celebrated in Thailand and Laos beginning of April, 13-15.  There will be parades and parties.
The Laos Dragon boat races are in September.
November is when Buddhists go to the That Luang temple in Vieniane.
Chinese New Year is one huge party in Singapore.
For more information on specific places and animals in South East Asia Click Here