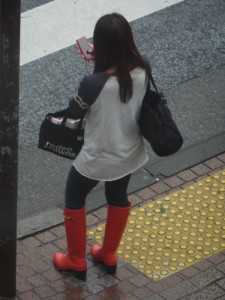 It is smart to use a smartphone abroad even if you don't plan on making phone calls; you can still use the internet, calculators, maps, apps, diary and more.
Depending on your smartphone and your provider you may be able to temporarily "unlock" your phone, so while you are abroad you can use a local cell phone provider to make calls.  If you have the iPhone5 with Verizon Wireless then you can unlock the phone while you travel without any hassle.
Turn your data off while Using a Smartphone Abroad
iPhone:  Settings/General/Cellular/ Cellular Data "Off". If you have another smartphone besides the iPhone, it will be under settings and if you can't find it, call your provider.
If you aren't making phone calls on your phone abroad make sure you turn your data off so you don't receive calls, texts or emails via the cell-phones networks.  You can still get emails, web-browse and use apps via Wi-Fi, but you won't be charged any roaming fees.  This is important since your network is continually updating emails, apps and other downloads which you will pay an insane amount roaming if the data isn't turned off.
SIM Cards
There is a wide variety of prepaid SIM cards, or you can get the "pay as you go" SIM cards.  Check with your cell phone provider first to make sure you can "unlock" your phone and use an SIM card.  Depending on where you will be going the SIM card may not work, however most major cities worldwide have them available.  You can buy the SIM cards at cell phone stores anywhere including the airports and abroad.  Some SIM cards have international minutes for calling home.
When you get a SIM card you will get a local phone number of the country you will be visiting which will ring to your smart phone.  It will be cheap to receive data, texts and calls with an SIM card.  When buying the SIM card take your phone with you.  The iPhone 5 has a different sized SIM card than most other smart phones.  Ask the associate to install it for you because the card door may be hard to open without a tool.
Shop around because every cell phone provider will have different speeds of network.  You will want to get a 4G network +(when it becomes available) rather than a slower 3G network.  Some local providers won't have cell phone coverage everywhere you plan to visit, so try to go with a top rated plan.  If you are calling people in the same network a lot of times the calls will be free.
If you switch to an SIM card, make note of your contacts.  Contacts are usually saved to your phone number which won't switch over to your new SIM card.  Sometimes text messages and log-ins for email will be saved to the phone itself; which makes for smooth transition between SIM cards.
Smartphone Apps
Before you leave, download the apps you want to use especially ones that can be used offline.  Some map apps like PocketEarth allows you to use it offline for times you don't have Wi-Fi.  Google Maps app is a good one and uses Wi-Fi but doesn't require a lot of data.
There are other apps available that allow you to text over Wi-Fi to other people with the same app without paying for texts on your paid data plan.
Some app accounts may be linked to your phone number, so if you are switching the SIM cards, you may have to log in again.  Keep the passwords somewhere where you can find them or memorize them.
Use Wi-Fi when available
You can use your smartphone as a hotspot to find public Wi-Fi.  iPhone: Settings/Wi-Fi/ Turn "on".   Your iPhone will find all the networks available near you and show you which ones are "unlocked" for public use.  Many places like tourist attractions, cafes, and coffee shops will have free Wi-Fi.  By using the free Wi-Fi it will conserve your paid data plan.
Make sure to turn the Wi-Fi off if you aren't around available Wi-Fi so it isn't constantly searching which will drain your phone's battery fast.
If you cell phone says 4G or 3G it is on the cell phone's network.  If it shows semi circle lines like a radio signal that gets smaller at the top, then you are using Wi-Fi. If your phone shows a circle going around and around like it is searching for WiFi it will drain your battery.  Unless you have an unlimited data plan with your cell phone provider, make sure you use W-Fi as much as possible to avoid over charges.  You may be charged roaming fees even if you have an unlimited data plan.  Even at home make sure you are connected to WiFi so save paying overage charges.
LocalPhone
Localphone – Cheaper & Easier than Calling Cards
With Localphone you can make cheap international calls at local prices from your cell phone, landline or computer. There are no monthly fees or hidden charges and you can re-charge your balance from as little as $1. Plus, you can try it for free!
Localphone offers four distinct services to help customers keep in touch with their international contacts at cheap rates.  Local Numbers, Internet Phone, Global SMS, and Incoming Numbers.
New users can make a free 5 minute test call
International calls from your cell phone or landline starting at 0.5¢
Call from your cell, landline and computer
International text messages from 2.7¢
Make VoIP calls from a computer using their Internet Phone service or from any compatible device
Customers can add as little as $1 credit
No hidden charges or monthly fees – only pay for the calls they make
Customers can earn free credit by referring their friends
Great call quality
Internet Cafes

Internet Cafés are another option if you don't want to bring your smartphone.  They happen to be everywhere even in developing countries.  Internet Cafes usually have international calling which is cheaper than some hotels and pay phones.  You can use their computers to get onto Skype or Video Chat and call home for free, as long as you pay the low price for Wi-Fi.  Or if you have your smart phone you can Face Time using their Wi-Fi.  Make sure when you log into anything on the Internet Cafes that you don't check the box that say "save passwords".  Also log out when you are finished.
Note: Some countries in the Middle East may not allow Skype or the like, such as Kuwait, it is actually illegal to use it.  See more notes about it under Middle East.
Cruising
If you are cruising and want to contact home, the cheapest way is to find an internet café while in port. You can Skype, Face Time or Video Chat for free as long as you pay the low rates of the Wi-Fi at internet cafes off the boat.  They have Internet Cafés even in developing countries.  I have used one close to the ship dock in Roatan, Honduras where they live on dirt floors and poverty is everywhere.   Internet Café's usually have international calling rates for cheaper than what you would get on the cruise ship.
The cruise ships internet connections are a lot slower than other places, but they are more convenient and the price will reflect it.  You can Skype while cruising in most areas, but you cannot face time as of yet.  I have used the cruise boats internet connection as well, sometimes it is worth paying a little more to be able to use the internet when you want to, and at least you don't have to walk around and find an internet café.
Two-Way Radios
If you have two-way radios you can use these instead of a smartphone abroad.  Radios work great especially if you are going to be in remote areas where cell phones don't work.  Do you plan on being in the middle of the Jungle trekking or high on a mountain rock climbing? Do you plan on hunting in remote areas? If you are on a cruise boat it may be the easiest way to get a hold of someone else on the cruise boat especially if you have a large group with you.
My dad used to use these back in the 80's when the hair was bigger, neon was at its brightest and cell phones were rare with huge antennas, and coverage was sparse.  He would be taking groups of thousands of people on tours all over the world; and the two-way radios were a life saver for him.  If you have two-way radios they work great for getting a hold of people in your group, and they are free to use.  However if you are using them in a city, people may think you are with the government or you have time warped.
Thanks for visiting Using a Smartphone Abroad.