Best Time to Visit Europe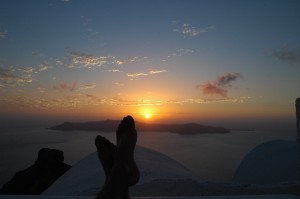 The best times to visit Europe are May, June and September.  July and August are the high tourist season and everything is crowded, more expensive, and can be hot.  In places like Venice you may smell sewer odors when it is hot.  The locals tend to vacation in August so some shops may be closed then.
Christmas and Easter Holidays are usually crowded and hotel and airline prices are usually higher.
Switzerland tends to be the most expensive country to visit in Europe. Eastern Europe, excluding the Ukraine and Russia is the cheapest region to visit.
For great skiing, go in January or February. Visiting Europe in the winter you can generally get better rates, however keep in mind that transportation may not run as often. In the Northern countries like Scotland, public transportation may only be seasonal and may not run in the winter.
Other Tips and Information: Use overnight trains to get somewhere cheaper than flying and save from staying in a hotel and then wasting a day of travel.
If you plan on traveling a lot invest in a rail pass.  It is called InterRail pass for Europeans or a Eurail pass for visitors.
Staying in one location will save you money, however if you only plan to go to Europe once, see as much as you can.
If you stay in the countryside you will find it is really laid back and beautiful.  It will also cost a lot less for both lodging and restaurants.
Use Skype or face time for cheap face to face contact.  Or buy a phone card.
The outskirts of town or the country is cheaper than the big cities.
I personally don't think this is safe and would never do it myself, however if you really want to save money consider joining www.couchsurfing.com, where residents let travelers stay with them for free. You can also give back by letting someone stay at your house.
Most cafes will charge you extra to eat outside on their patio v. eating inside their café.  They will charge you even less if you stand at the tables without seating or take your food to go.
Eat from street venders and you can eat for pretty cheap.
Try to learn the basics of the language within the country or countries you will be visiting especially in France.
Most subways and trams require you to validate your ticket after you buy it.  If you don't and you get caught you will have a fine to pay.
Bathrooms: You have to pay for most bathrooms in Europe so carry coins with you.  Some restaurants will let paying customers use their restroom.  I have walked into a hotel in Venice and asked them nicely to use a restroom and they didn't mind.  McDonalds is a good one to use as well.  In Rome we ate at a Mcdonalds next to the Pantheon and I ended up getting a bladder infection.  I think I used that same Mcdonalds' restroom 4 times within a short period and they didn't seem to mind.
The passport officials will ask you where you are staying before they let you through customs.  If you don't know they may make you sit there and make reservations before entry.  My advice is to book where you will be staying and print a copy of it to show them.  Keep it in a folder with all of your information. UK officials are especially strict on this rule.
Before you plan, double check that the attraction you want to see isn't closed on the day you want to see it.  A lot of museums, churches and other attractions may be closed 1-2 days per week.
I have friends who have lived in Russia, UK, France, Italy, Czech Republic, and Norway.  If you have specific questions, email me janna@getawayguide.org.