Great Seats and Great Prices on all Las Vegas Shows
For both cheap Las Vegas show tickets and those hard to find premium seats.
Las Vegas is considered to be the entertainment capital of the world. It is home to some of the world's most exciting and entertaining shows. There is something for everyone from family shows, comedians, circus acts, magicians, and adult shows. Vegas also plays host to fabulous concerts with legendary performers from all over the globe. There are tons of Las Vegas shows to choose from.
Do you have Las Vegas tickets you would like to sell for cash?  Click on the link above.
Vegas Shows, Vegas Concert, Vegas Comedy, Vegas Sports, Vegas Tours, Vegas Golf and Vegas Night Life are all sold here.  Click on the link above.

A few of the most popular Vegas Shows are listed below, but click on the link for hundreds to choose from.
Cirque Du Soleil
One of the most popular tickets sold in Las Vegas is Cirque Du Soleil.  Any of the seven Cirque du Soleil shows in Las Vegas are well worth the price of the ticket. They have a way of designing the theaters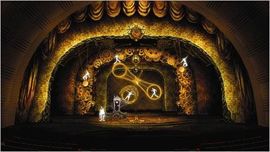 specially for each show and the moment you enter you will be amazed at the unique environment they have created. Known all over the world for their phenomenal performances which mix ballet, gymnastics, and stunning set designs, the Cirque du Soleil in Las Vegas is some of the best loved entertainment on the strip. You do not have to be a guest of the hotel in which they are performing, so anyone is free to witness any of these captivating and utterly unique performances.
The Blue Man Group
The Blue Man Group have taken residence at the Venetian and bring with them a universally entertaining evening. Las Vegas is not often considered a very family-friendly place. It is called Sin City, everything is on the Strip, and there is an adult revue of some sort at every major resort and hotel. Yet, Blue Man Group tickets are proof Las Vegas is an oasis in the desert with something for everyone. They remain in the upscale resort that has given the three avant-garde performers a place to perform since the show arrived seven years ago. In 2012, BMG has moved beyond Tubes, Rewired, and NowMoreWow to its newest production, Bluephoria.
For 90 minutes the three men who have taken perhaps more time to their faces and hands blue and don all black shirts and pants will give a peculiar few of the world. This Blue Man Group Vegas production is once again a combination of comedy and science experiments all wrapped into one brilliant piece of performance art. The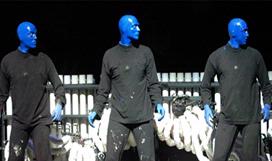 drums continue to beat and the paint still splatters over the front rows of the audience at the Blue Man Group Theater (ponchos are provided for all audience members). The room goes dark and BMG's behind the scene crew sustain the tradition of putting on a light show that will wow any crowd. Twinkies remain delicious and edible pieces of art. Essentially, craziness ensues as always.
Bluephoria is production set apart by its use of gigantic projections screens and a few traipsing digital signals, given visual depth. This time Blue Man Group Vegas tickets are a chance to see an interpretation of the persistence of technology in everyday life. It is an incredible chance to see the tech we choose to ignore brought to the forefront and put on display for us to not only marvel, but for the audience to leave thinking about from the end of the show until the flight home touches down. BMG perform six days a week, Sunday through Friday at 8 pm and Saturday at 7 pm and 10 pm.
David Cooperfield
Copperfield does not rely on gothic tones, dark humor, or any other distraction to amaze his audience. He figures the less the better in a show every audience member is trying to dissect. This is a challenge when there are thousands watching from seats directly in front of the stage. When the stage is a 360 degree set, it raises the bar. This is a truly inspirational illusionist exhibition and the reason why the man whose feats actually tempts death and has led to a long list of injuries for him and his assistants is always ahead of those who would gladly replace him atop the field of illusion and those who still call the craft magic.
An intimate of Grand Illusion is much more than just a chance to see another David Copperfield show, but a chance to see a show that celebrates his incredible career and accomplishments. Like all illusionists, Copperfield is going to search out willing participants from the audience, just so the crowd knows that when they have their mind blown it is accomplished by an incredible performer who can trick someone a mere foot away.
David Copperfield performs in spurts (how else would he have found time to hang out with a one of the most popular rappers in the game?), but for those weeks he is performing, the show is a twice daily event at 7 and 9:30 pm, with an additional 4 pm show on Saturday. David Copperfield tickets for the Vegas event are appropriate for all ages, so any magic and illusion enthusiast may enjoy the demonstration of mind over reality (or at least perception).