Best Time to Visit Australia
Australia is in the Southern Hemisphere so the seasons are reversed compared to the Northern Hemisphere.  Summer is December – March, and winter is June-August.
June-November is the driest period and rainfall is rare.  December-February has the most rainfall, but rains usually at night.
Australians vacation the most mid-December to the end of January and their winter vacations are around June and July. These coincide with school holidays and the roads can be busy.
Sydney always has lots of parties for New Year's Eve.
Best all-round months: September and October. This is because you'll avoid the scorching heat of mid-summer and the cooler nights of winter.
Northern Australia and the Outback: Best in winter June – August. In the summer months cyclones and flooding are a risk including flooding roads.  However, it makes the Kakadu National Park lush green with flowing waterfalls.
Southern Australia: Summertime if you want to visit the beaches.
Diving/Snorkeling: You can snorkel and dive year round in Northern Queensland, but most popular times are August through December.
Calmest sea conditions are between September-February
Most popular time for liveaboard diving is July – November, although in the Coral Sea at Osprey Reef and North Horn, visibility peaks during June and September.  Livaboard trips to the Rowley Shoals in Western Australia are best in October.
Minke whale season is usually from June to August and is the ideal time to spot and interact with them.
Humpback whales are common between August and October
November is the best month to observe coral spawning events
The Giant Potato Cod are present all year, they love people and aren't shy with the camera.
The jellyfish season in North Queensland is from November- April which isn't really a threat to divers.  This does not include box jellyfish which are coastal dwellers are not found on the reef.
Great White Sharks run from May – February in Southern Australia.
Giant Cuttlefish mating season is May – June.
Other Tips and Information:
Free tourist maps are available at information centers on major streets across the city.
For a site that lists 101 tips for enjoying Australia on a Budget  Click Here
Livaboard – A boat that is designed for you to live on.  The price includes sleeping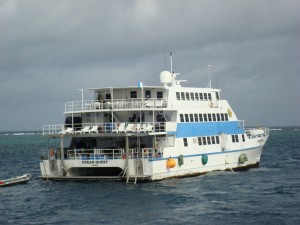 accommodations as well as food.  The Great Barrier Reef is a ways out from the shore.  Staying on a livaboard is good idea if you want to spend more than 1 day on the Great Barrier Reef.  They have budget friendly livaboards , luxury and in between.  Some boats are only out for 1 night and others stay a lot longer.  It allows you to see more of the Great Barrier Reef by not wasting time driving back to land every day.  They are for snorkelers as well as divers. 
Drivers: Australian traffic drives on the left hand side of the road. If you are in doubt about your driving license being accepted in Australia, rather obtain an International License from your local automobile association prior to your departure.
If you want to know more about Australia from people who have lived or who are currently living there, I have a few contacts.  Email me janna@getawayguide.org