You are required to purchase a Visa before entry into Australia unless you are Australian or from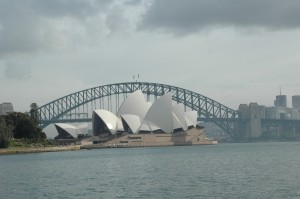 New Zealand.  You can purchase the Visa at the airport before your plane departs for AU$20.  We bought ours at the airport and didn't have a problem, however some people are not approved to enter Australia and they must contact an Australian Embassy. If you wait last minute you could be denied boarding by the airline.  This website says they will overnight your Visa within 24 hrs and only charge Au $9.95.  Click Here
Visas in General:
Visa is a document issued by a country's government allowing the holder to enter. Regulations often change. Do your research and come prepared.
Rates:  differ depending on your nationality.  The price can fluctuate depending on where you buy the Visa from, online may be less expensive than a consulate, embassy or at the airport, so look around for the best price. Depending on the country you are entering, you may even be able to negotiate prices.  Some will let you pay in another currency than their own, but you may be charged extra fees. If you go over the expiration date you can be charged a hefty fine.  For more than 60 days overstay travelers risk deportation or imprisonment.
Requirements: Most customs require seeing your passport and it must be valid for up to 6 months before entering/departing their country.  They usually like to see at least 2 unused pages in your passport. Pay special attention to international flight routing. Some countries require visas for transiting through their airports, even if you are just passing through en route to another country.
Time of Issuance: Some Visas are issued within minutes, and others can take 1-6 business days or longer depending on your situation.  Some entry points require up to 6 copies of your passport.  If you are in a populated city they may not charge extra, but if you are going remote it is a good idea to make copies before you leave home.
Extensions: Depending on the Visa you may be able to apply for an extension if you need one. Or if you are in a rush you may be able to pay extra for an expedited Visa.
Visa Types: There are different kinds of Visas.  Some are for a single entry and others are for multiple entries, if you want to leave the country and come back within a time frame. They have Tourist/Visitor Visas, Student Visas, Artist/Entertainer Visas, Religious Worker Visas, Transit Visas, Immigrant Visas and more.